Monday, April 20, 2009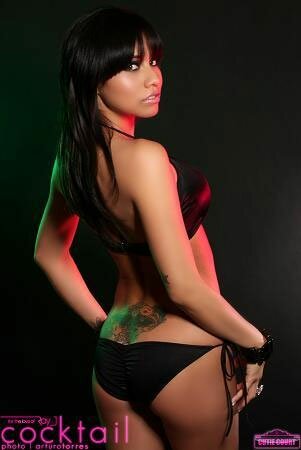 For The Love Of Ray J winner, Joanna Hernandez, aka Cocktail has taken home her prize, Ray J, from the VH1 reality television show "For the Love of Ray J" after being chosen by Ray J as the last contestant standing after the singer, producer and actor eliminated the last two remaining competitors of Cocktail: Monica Leon aka "Danger" who was eliminated early in the last episode for her strange behavior on the previous episode after Ray J announced he would be meeting their families, followed by Danielle Pastorino aka "Unique" who made it to the end of the show, but was not chosen over Cocktail.

Cocktail, who got her name on the dating competition show from being an actual part-time cocktail waitress, won the heart of Ray J for being the fun, outgoing, big-hearted and down-to-earth woman that allowed Ray J to be himself.
Joanna "Cocktail" Hernandez, 26, took Ray J, on the last episode, to her family's home in Sacramento, California where Ray J met her parents and brother which included her mother who didn't speak a bit of English which made Ray J feel just a little bit uncomfortable as she was speaking her native tongue with her daughter "Cocktail" while he sat in the middle of the two during the conversation.
Originally a social worker and a go-go dancer before coming on the show, Cocktail was also exposed, by former contestant Cashmere, for being on a prior reality TV show contestant of "The Bad Girls Club," which Cocktail appeared on a reported six episodes of the first season where she was labeled a "golddigger."
But that and nothing else stood in the way of Cocktail pleasing her man [Ray J] all the way up until the last and final date where Cocktail did a stripper dance for Ray J in various sexy lingerie outfits provided by Ray J while she danced on a stripper pole which was actually located inside of the shower where the two ended up getting all wet together and then going private off camera with the steamy date.
The show ended with a toast by Ray J and Cocktail to their newly formed television relationship.
Missed the show? A reunion show will be aired on April 27th, 2009 on VH1 for the highly popular reality TV show, "For The Love of Ray J."